Millions of people across the globe are on their CBD journey – from using CBD oil for sleep to rubbing it on topically after a tough workout. And now, swathes more are joining us from Gail Muller's 'Unlost' wellness retreat for women.
In a world where we're so connected to our screens and so disconnected from each other (and ourselves), taking some time to pare back and rediscover the adventure of life is no longer a luxury, but essential. 
On the Unlost retreat, Gail brings together individuals who are ready to step back onto their own paths, reinvigorated and enlivened by the natural world – swimming in the sea, hiking along Cornish coastal paths, listening, learning and reflecting with new friends. In our minds, here at EthicaCBD, this is the perfect place to start taking CBD, to look after yourself just that little bit more from the inside out.
But, while Gail has introduced her retreat guests to CBD, it's not with oral drops. It's through the use of EthicaCBD Sports Gel.
Everyone who attends the Unlost retreat is gifted a tube of EthicaCBD Sports Gel as part of their take-home goody bag, and many of them have used Gail's personal supply along the way! But why?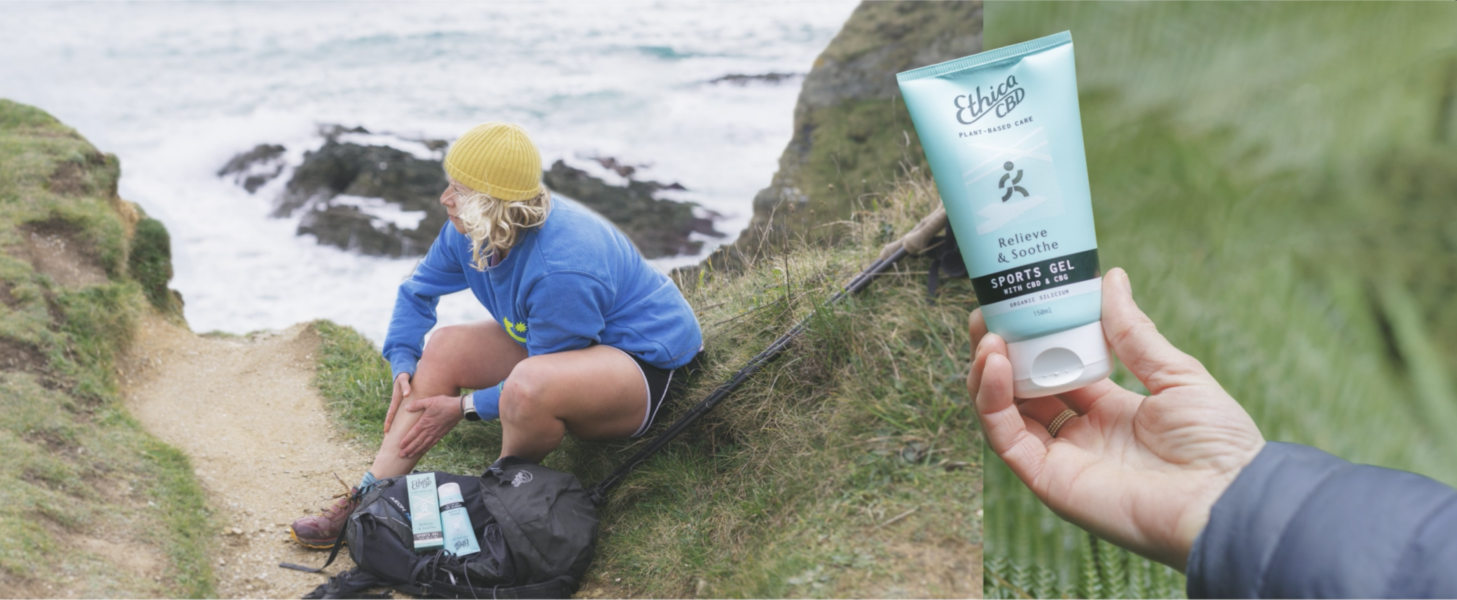 What makes CBD and exercise a great combination?
Those joining Gail on her retreats may not be undertaking gruelling fitness routines, but you'd be surprised at what a workout three days of walking, swimming and playing can be! With the Ethica CBD Sports Gel, there's no need for discomfort.
As research into CBD grows, we're given a deeper understanding of how CBD can support the body even when pushed to its limit! 
Evidence suggests that when the endocannabinoid system (ECS) is activated by the endocannabinoids (that CBD supports synthesis and production of), it creates an anti-catabolic response which prevents the body from losing muscle mass. Many studies have also indicated that an activated ECS and steady levels of endocannabinoids can produce anti-inflammatory and anti-oxidant effects, as well as reduced muscle spasticity and accelerated muscle recovery.
Can CBD give me an energy boost?
CBD may be famed for its potential to help you relax and sleep, but did you know some studies have revealed this molecule can work in ways that boost energy levels too?
One reason for this is of course that a better night's sleep will result in more energy! But CBD has been called a 'wake-promoting agent' in a 2014 study published in Current Neuropharmacology. it all depends on how much you take when you take it and what your body needs. This can also be amplified when combined with stimulating terpenes and other adaptogens, which we infuse Ethica CBD products with.
Some researchers also believe this energising action of CBD may be down to how it activates dopamine receptors, supports a bliss-inducing flow of anandamide and anti-oxidant properties.
You may be wondering why Gail has gone for CBD gel as her CBD product of choice. Does this really get to work in the body? And if so, how?
Transdermal products (the kind that permeates deep into the body, through multiple skin layers, rather than just targeting the surface layer) like our gel, have been used in pharmaceuticals for a very long time. This is due to their efficacy in targeting specific areas of the body, and getting to work, fast.
One study has shown that the application of low-dose CBD gel (just 6.2mg per day) significantly reduced arthritic knee swelling in mice. Further studies exploring the efficacy of transdermal gels for aching limbs have also yielded very positive results!
While everyone will have their own, unique journeys both with CBD and on Gail Muller's Unlost retreat, most have one thing in common – they're craving ways to soothe the soul and get back to their truest selves.
Neither a 3-day retreat nor CBD with solve all of life's problems, but both can contribute to you giving yourself a little bit of well-deserved, much-needed love and attention. 
However you do it, take some time for you. Maybe that will be supported by CBD, maybe you'll find yourself again in the company of new friends, or maybe you just need to take a long bath, read a good book or get to bed a bit earlier!
Taking care of yourself is the key to being your very best in this life. Both EthicaCBD and Gail Muller are here to support you in doing just that.