Our CBD Coffee recipe is as good as your talented local coffee shop baristas delicious, personally-tailored drink to kick start your day. CBD coffee has entered the wellness space and it is proving a popular way for caffeine aficionados who care about their wellbeing to get their daily fix of CBD. But what is CBD infused coffee? And how does CBD coffee impact our wellbeing (if at all)?
We thought it a good time to explore the phenomena of adding CBD oil to coffee to lay bare the facts and enable you to make an informed decision about whether you'll try CBD infused coffee and how it might make you feel… 
What is CBD Infused Coffee?
To understand what CBD infused coffee is, we must first understand what CBD is – CBD (or 'cannabidiol' to give it its proper name) is one of numerous cannabinoids that can be extracted from the hemp plant, and the one which we are finding to be the most beneficial for restoring our wellbeing.
CBD is a pure plant extract, a food supplement, a herbal health booster that is more effective than anything we've experienced from nature before. According to a survey undertaken by YouGov, around 4-6million people in the UK have used a CBD product with over half (61%) of CBD customers say they use the products for medicinal purposes, with pain relief the primary use (71%). Extensive research has gone into the safety of CBD products; its legalisation in 2015 brought with it a welcome assurance that it is safe for all those looking to fortify their wellbeing with some serious natural plant power!     
For many, the driving force behind the reason they use CBD is grounded in wellness and health. Just like your morning yoga session or setting your intentions before you start the day, having a daily fix of CBD is a practice which many find reconnects their wellbeing so that they are ready to face the world. A warming coffee is so ingrained in many of our daily rituals that it seems a perfect drink to infuse with CBD. What's more is that it can be done very easily; CBD coffee makes CBD more readily available to those who seek a greater sense of wellbeing, and we are here to champion this beautiful partnership of natural plant-based extracts. 
Is CBD and Coffee an Unexpected Pairing?
Caffeine is the most popular natural stimulant in the world and it is estimated that over 2.2 billion cups of coffee are consumed every day. Whilst coffee can provide us with a caffeine kick to enliven and offer greater mental clarity, CBD has a reputation as an anxiety-reducer, a pain-reliever and a sleep aid. How can the two successfully combine? Adding CBD to coffee may seem a counterintuitive pairing due to CBD oil's reputation as a calming relaxant, and coffee having quite the opposite effect. But CBD coffee is growing in popularity all the time so it must yield a positive effect for those who enjoy it, mustn't it? 
Whilst feeling more relaxed can aid a peaceful uninterrupted night's sleep, using CBD does not leave you feeling sleepy like some non-natural/pharmaceutical sleep aids can and so CBD oil paired with coffee shouldn't present that much of a puzzlement.
People who enjoy drinking CBD infused coffee tell us that the effect is one of alert caffeine clarity, without the negative jittery feeling which caffeine fans sometimes experience. Even after 3 or 4 cups of your favourite flat white, having CBD in your coffee can 'even you out' and stop the less desirable effects of caffeine such as increased heart rate and feeling anxious. The pairing of coffee with CBD oil opens everything up and is the perfect vessel for achieving what some baristas call the almighty "focus chill"'. Along with this, people who use CBD oil for pain relief say that putting CBD oil in coffee gives them the natural relief they are looking for, with the added benefit of a caffeine boost.    
Coffee has a natural synergistic effect with CBD. When combined, both caffeine and CBD can produce a heightened level of alertness and mental clarity. Each component of CBD coffee slows the breakdown of the other, which in turn helps them to circulate through the body for longer periods of time and mitigate that undesirable 'caffeine crash' we sometimes get once caffeine wears off. 
Can You Put CBD Oil into Coffee?
Similarly to cooking with CBD oil, putting CBD oil into coffee yourself may not produce the best results unless you know what you're doing. No one wants an oil slick floating atop their latte, so it has to be done carefully!
Whilst CBD oil is incredibly versatile, there's a reason why we take time to carefully extract CBD oil from the hemp plant in small batches and at low heats – because excess heat can break down the goodness lurking within the structure of the plant. We advise not undoing all of our good work by liberally splashing CBD oil into piping hot coffee because the benefits you seek may be destroyed by heat. Instead, wait for your coffee to cool slightly before adding the oil to your coffee, using the dosage guide below:
CBD Oil Dosage in Coffee
10-15mg is our preferred dose for a really calming cup of coffee. We find this is perfect for a lazy weekend brew and achieving a more rounded, calmer 'you'.

5mg is our preferred dose for CBD coffees enjoyed on a weekday morning. This is because CBD (when consumed in small doses) is reputed to have an energising effect, making it the perfect complement to a cup of coffee as it is still enough to banish the notorious coffee jitters.
NB – Whilst there is no right or wrong CBD dosage, there is an optimum intake. We strongly advise against exceeding 70mg of CBD in any 24 hour period, and encourage CBD users to discover how EthicaCBD CBD oils can work for them.
Choose Your Coffee Blend
How to Make your own CBD Coffee
Many people assume that CBD coffee is simply a regular coffee with a few drops of CBD oil added in. However oil and water do not mix well, so adding CBD oil to coffee can result in an undesirable oil floating on the top unless done very carefully. Whilst this is not necessarily a problem when enjoying CBD coffee made at home, if you are a coffee shop barista, you probably don't want to present this to a customer as the aesthetics won't be what they have come to expect.  
Like with adding oil to coffee, you will need to make sure that your CBD dosage does not exceed your daily CBD dosage which is why it is best to add your preferred CBD company (EthicaCBD of course!) so that it is explicitly clear how much CBD you are taking in each dose. Many people use CBD-infused coffee beans for making their daily coffee and this can be a good addition if you can source a decent producer of CBD-infused coffee beans.  
Most CBD oils are designed to be taken sublingually (held under the tongue so that it can be absorbed by the blood stream) so when you use CBD in coffee, lots of the CBD is absorbed by the body before it reaches the bloodstream, making it an inefficient way of taking CBD. Whilst this is perfect for beginners, or people who like more subtle CBD effects from their CBD coffee, many CBD users prefer to get the optimum effect possible. This can be achieved by adding CBD to bulletproof coffee (coffee made with fats such as butter or coconut oil) as it can increase the bioavailability slightly as the added fat will carry the CBD oil.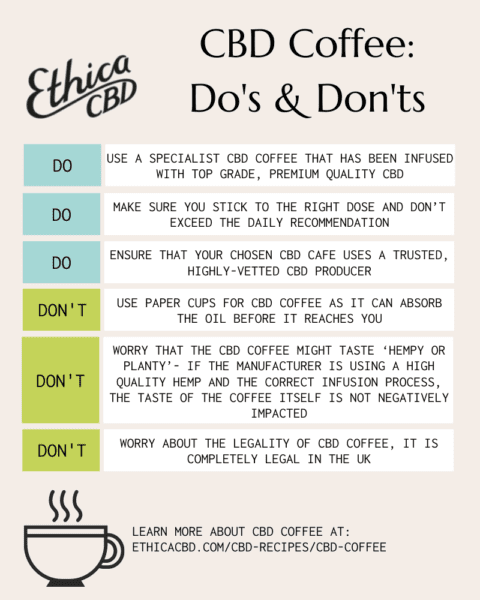 The best CBD Coffee Recipes
Iced Hazelnut CBD Coffee
There are so many awesome coffee shops out there these days making incredible strides into the world of coffee- long gone are the days when an instant freeze-dried coffee in a styrofoam cup is all you can expect when you order a coffee. From espressos to bulletproofs, macchiatos and everything in between, you can create your perfect blend of ground coffee (with or without your choice of milk) to suit your strength and flavour requirements. 
If you don't know what you're doing when you order a coffee, it's quite a minefield! So we love making our own gourmet barista coffees at home, especially when adding CBD to our daily cup. It saves money and somehow seems more relaxing to enjoy a coffee in the quiet sanctuary of our own home. We love this recipe for iced hazelnut CBD infused coffee – using CBD oil in an iced coffee mitigates the risk of losing any of the plant-based goodness when it hits the heat of a more traditional piping hot coffee.  Give it a whirl and let us know what you think!
CBD Infused Coffee Recipe
Ingredients
Double shot espresso of your chosen coffee blend 

A cup of ice cubes

6 drops of CBD oil (we like using the '

Day' Pure oil

which users have dubbed 'sunshine in a bottle')

Hazelnut coffee syrup (we like

this one

by Monin) 

 

– we find the nutty taste of caramelized hazelnut is a perfect pairing for the fresh flavour of CBD Day Pure oil.

(optional) Plant-based Milk (we love

Oatly barista oat milk)
Instructions
Brew a double espresso in your usual way, whether that is with a coffee machine or a stove-top cafetiere. We love the traditional method of using a Moka pot as it becomes part of our morning ritual as we await the whistle signalling our brew is done!

NB-

If you are using CBD-infused coffee beans, you won't need to add the oil in the next step

Pour double espresso over your cup of ice and shake/blend using either a cocktail maker or a home blender. Add 6 drops of your chosen CBD oil, and half a cup of your chosen milk. We find that this recipe works great with the creaminess of Oatly barista oat milk and creates a nice light froth.

Pour in a shot of hazelnut coffee syrup (or more if you prefer a sweeter taste) and blend again.

Once blended, pour over a cup of ice and you will now have the perfect iced CBD coffee to enjoy at your leisure!