The CBD industry is one of the fastest growing industries in the wellness space today. As part of this enormous growth, and because we are one of the fastest growing CBD companies in the UK, responsibility lies with us to ensure that every single action we take as a business is sustainable, considerate and responsible. 
As our company grows, we take the responsibility of our impact on the world around us extremely seriously. From how we create our packaging, to methods used in growing our hemp crops and everything in between, being ethical, transparent and accountable for every single process we undertake is of the utmost importance to us as we move forwards. 
Our unerring passion for making the world a better place was why we started the company in the first place. EthicaCBD developed as a necessary solution to the issues faced by one of our founders, Oli, when dealing with the disease Ankylosing Spondylitis. He found that CBD helped his symptoms and improved his life, but became frustrated that there wasn't a purer, more ethical option for his CBD needs. So he created his own. 
Since that first conception, EthicaCBD has positioned itself as the market leader in ethical, pure CBD products, and it aims to do so whilst leading the charge on ethics and sustainability. We pride ourselves on standing strong and sticking to our core principles of ethical practice so that we can continue to be a CBD company in which you can firmly place your trust.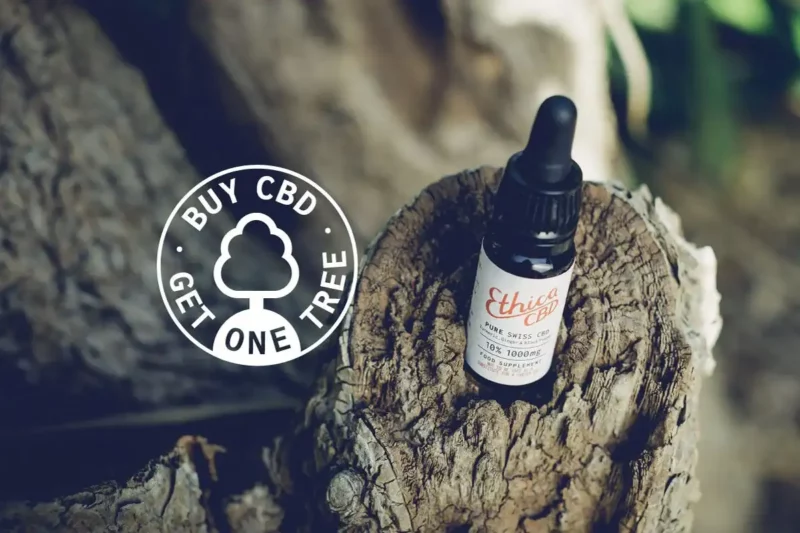 One Product. One Tree. One Commitment. 
So it perhaps comes as no surprise that we recently started planting a tree for every single product sold. The old proverb goes, "the best time to plant a tree is twenty years ago". The second best time is NOW. The impact of planting just one seed can last for generations and we are starting now to help preserve the future generations of this beautiful planet we call home. 
We are able to plant trees by partnering with the amazing organisation Tree-nation. Tree-nation is a non-profit NGO dedicated to fighting climate change one tree at a time. The organisation allows citizens and companies to plant trees all around the world and in doing so, offset their CO2 emissions. Planting trees has been proven to be one of the most efficient solutions to fight climate change and, with 85% of all terrestrial species living in tropical forests, we are able to preserve and restore the biodiversity upon which they depend. 
But what is the CO2 impact of hemp and do we need to offset it?
CO2 Impact of the CBD Industry
There are very few products that leave a 100 percent zero-emission footprint, and hemp is no different. Now that CBD has become a popular botanical used for wellness all over the world, it follows that CBD needs to be transported in order to keep theCBD  industry alive and to meet demand. Transportation obviously has its own carbon emissions, but hemp itself is an incredibly planet-friendly crop with extremely low environmental impact. Due to the robustness of hemp, it doesn't need pesticides – something which further ensures its purity and minimal impact on the ecosystems in which it exists. Hemp is also a crop which grows incredibly quickly (up to 4 metres in 100 days!) which makes it a good rotational crop. Because of this, hemp is known for having a high CO2 absorption rate and just one hectare can absorb up to 22 tonnes of CO2. This is higher than any other commercial crop or forestry so many CBD brands strive to operate beyond carbon neutral. By planting trees for every product sold, we aim to reach this target in the near future as part of our campaign for good. 
Tree-Nation
Partnering with Tree-nation, we invite our customers to be part of our journey towards sustainability, protecting biodiversity and supporting local communities. Customers get a tree planting certificate and can keep track of our trees as well as following the CO2 offset of the EthicaCBD forest. So far we have planted 3014 trees (and counting) and captured a total of 59.32 tonnes of CO2 which is an amazing start. Join us in increasing our brand's impact on fighting climate change and let's change the world together, one tree at a time. 
Some of the Reforestation Projects Supported by EthicaCBD 
Usambara Biodiversity Conservation, Tanzania

The Eastern Arc Mountains are a hotspot which needs to be maintained due to them being a global biodiversity hotspot. EthicaCBD are supporting tree nursery projects to reforest lands in the Usambara Mountains African Rainforest which helps to protect the biodiversity of the region. By assuring adequate tree availability to communities in the Usambara Mountains, we can avoid the unsustainable illegal use of the Reserves.
The Eden reforestation project was started in 2007 in response to the large-scale loss of mangroves and upland forests in Madagascar. Since its inception, Eden has successfully planted over 407 million mangrove and dry deciduous trees in northwest Madagascar, and EthicaCBD are thoroughly behind the initiative.
How We Reduce Carbon Emissions in Other Ways
E-commerce is an enormous force in today's modern world, and the rise of shopping online is a very real threat to our climate. Every search, every email, every social media post needs fuel – that is difficult to imagine because the digital world seems so 'invisible', but everything that is done online has to pass through a physical entity. An electronic system that needs energy to function. You'd be staggered to realise the amount of energy required- the internet generates the same amount of greenhouse gases as the aviation industry!
So when we chose our web designers and SEO team, we chose Solve. Not only are Solve a local Cornish company, but they strive to tackle climate change and be as eco-friendly as possible in everything that they do. They share the same 'ethos for good' as we have here at EthicaCBD, and that is crucially important to us when we choose suppliers/partners/operators that we work with. They are also a B Corp organisation which demonstrates the stellar eco-friendly practices which are at the forefront of everything they do. 
If you would like to know more about the ways in which we are working towards an ethos of good, get in touch and work with us to be the change you want to see in the world. We can't wait to grow together…